Are you on a keto diet? Then, you may want your hands on the best keto subscription boxes to ensure you never break your diet. It is normal for people to get hungry between meals. Finding snacks to fill your belly is difficult when you are on a diet. It further becomes an impossible task when you are on a keto diet. The diet focuses on reducing your carbs intake by at least 50 grams every day. Cutting carbs is not as easy as it sounds. So, most dieters aim to reduce the intake by 20 to 30 grams. By cutting the carbs, you force your body to burn fat. The fat burned is used as fuel for the body. So, it leads to easier and faster weight loss. Instead of muscle loss, you burn the stubborn fat accumulated in your body.
About Keto Diet
Before going into the best keto subscription boxes, you need to know about the keto diet. A keto diet or ketogenic diet includes high-fat, extremely low-carb food that promotes weight loss, the diet has many similarities with other low-carb diet programs and Atkins. The ketogenic diet focuses on drastically reducing your carbohydrate intake. Instead, it is replaced with fat. Now you may wonder why take fat when you are trying to shed it? By reducing the carbohydrates drastically, you put your body into a metabolic state called ketosis. Your blood cells like glucose as its fuel source. With reduced carbohydrates, the cells get deprived of fuel. So, your body starts to use fat as its fuel. The burning of fat can result in weight loss.
Benefits Of Keto Diet
When you reach ketosis, the liver turns the fat into ketones, which can provide energy for your brain. The ketogenic diet is well-known for its health benefits. The increased number of ketones can result in numerous health benefits apart from weight loss like:
By following a keto diet, you can improve your overall health. It is easy to follow a keto diet when you start cooking at home. But, when you are going out or at work, it becomes a difficult task. While you can prepare snacks or lunches that follow the keto diet at home. But, life can get busy and you have to look for a plan B. That's where keto subscription boxes come to your rescue. You have several options in the marketplace that acts as the perfect backup. You have choices of low-carb snack items, which are tasty, fulfilling, and never affect your diet. You just need to grab and go.
Keto Subscription Boxes
Eating fewer carbs is not easy when you crave for a snack. Unfortunately, popular snacks are loaded with sugar. So, by default when you consume the snacks, you are increasing your carbs intake. The choices of snacks like cookies, candies or trail mix can interrupt your diet. You may not see the desired effect by snacking. It is an unfortunate dilemma as you cannot continue your diet with the snacks while you cannot follow a diet without a snack. How can you reach ketosis without derailing your diet? By eating keto snacks. The special snacks are low-carb and aids in continuing your diet. You have so many options to choose as the market is flooded with snack boxes. It is important to choose the best one out of the different options.
Finding an affordable pack of delicious keto-friendly snack is not as difficult as it sounds. You have the subscription box with delicious keto snacks packed and delivered straight to your door. It is the perfect option for people who are looking for the right snack or are traveling outside. The low carb snacks are gluten-free and keto-approved. So, you will never have to break your diet to fill your tummy and appease your taste buds.
The Best Keto Subscription Boxes
While looking for keto snacks, you would like to get your hands on the healthy, tasty, and plenty of treats that will never affect your diet. Subscription boxes are your go-to option for such treats. The box contains an assortment of treats like:
Homemade muffins
Protein bars
All-natural jerky
Crackers
Pumpkin seed
Stressing about the perfect box to meet your dietary needs? Cut down the stress as you can use the article to find the best one. It will keep you on track of your fitness goals. You will never succumb to the cravings as the snacks will fuel your workouts and keep you full. The delicious treat will only help you throughout the weight loss journey. So, here we go!
The Keto Box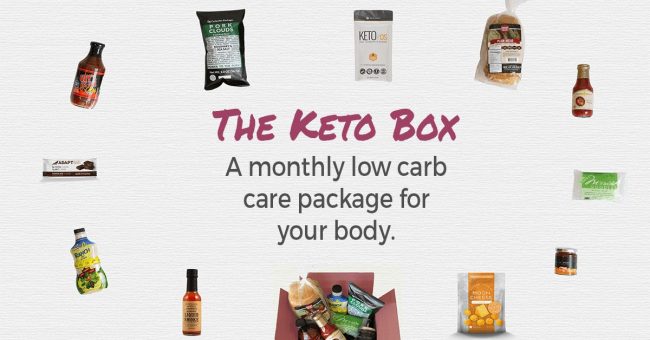 It is the perfect snack box to treat yourself every month. People with a hectic lifestyle can opt for the box of goodies that contains eight to ten low-carb snacks. It is delivered to your doorstep every month. No-hassles or fuss as customers can enjoy the goodies without any issues. Ever dieter likes to add new things to make their weight-loss journey exciting. So, The Keto Box brings you some new things that you will love to add to your diet. Just click on https://www.theketobox.com/ and subscribe to the concept. By spending $36-$40, you can get keto sampling snacks. You never have to commit to large purchases as the box packs plenty of varieties of snacks.
The products that reach your doorstep have the stamp of approval from a proficient team of ketogenic dieters. So, you can get professional thoughts on different products to enjoy and stay motivated. You can progress towards your weight loss journey without any issues. The products are shipped from the USA on the 5th of every month. While the snacks are delicious, it will also help you sustain ketosis. The high-quality foods eliminate the need for your between-meal munchies without increasing the carbs. So, get the products from the platform to appease your cravings without losing your hard-earned ketosis. Among the different options, The Keto Box holds the number one position due to its several benefits compared to others in the market.
Pros
The Keto Box is one of the best Keto subscription boxes preferred by dieters following the weight loss diet. It is because of the following benefits:
Convenience
It is not easy to get low-carb snacks, which is also delicious. You have to search aisles of several supermarkets to find such precious gems. By subscribing to the plan, you receive a box every month with delicious goodies. So, you can access the tasty and healthy snacks with ease.
Diverse Choices
The boxes you receive at your doorstep has a diverse variety of snacks. So, each month you will look forward to the surprising delights. While you may know about some snacks, the others can surprise you. So, you get an opportunity to try something new and expand the horizons of your keto diet.
Keto-Friendly
While the snacks can come as a surprise, it will never affect your diet. The keto-friendly products will only aid your ketosis. So, you can consume the snacks without checking the nutritional labels. The snacks in the box always contain less than five grams of carbs per single serving.
Adhering To Keto Diet
If you become hungry, you become tempted to grab any snacks to manage your hunger. You tend to forget if the snack you grab has high carbs content. Such action can result in the derailing of the diet. When you have access to the boxes of keto-friendly snacks, you can satisfy your cravings without affecting your diet. You get eight to eleven snacks per box approved by keto diet specialists.
Cost-Effectiveness
The price of the subscription for the keto products is less compared to buying the items individually. While you save a large amount of money when you opt for the longer subscription, the basic month to month subscription can also help you save money.
Cons
While The Keto Box is the best option among the different choices available, it also has cons associated with it.
Insufficient Snacks
Some customers feel the snacks are not enough for a month. The box contains only eight to eleven snacks. So, you cannot feel enough to get you through a whole month. A bigger box can help the dieters snack for a whole month without running out of delicious products.
No Customization Available
You cannot personalize the box with items you like. So, you cannot expect a snack to meet your specific requirements. It becomes a problem for people who have an allergy to nuts, prefer vegetarian, or do not like a certain type of product. The Keto Box has no method to collect such personalization information to change the content of the box. The only plus point is the all the product you get has a good taste and will satisfy your cravings.
Contains Not Just Snacks
When the box says it has eight to eleven items, it means not snacks alone. It contains non-snack items like drink mixes and condiments. It does not mean you cannot make use of it. When to visit the official page, you can access several recipes using the non-snack items.
If you are looking for the best keto snacks, then The Keto Box is the perfect choice as it contains delicious and satisfying treats you can consume between meals and condiments to make some great meals at home.
Keto Delivered
It is one of the best keto subscription boxes that puts a high emphasis on offering you artisanal products. You cannot see the products on a supermarket aisle as it is obtained from small businesses operating across the USA. These products are produced in small batches. So, it is impossible to get your hands on the snack items easily. But, when you subscribe to the boxes, you receive lesser-known but delicious products rather than the mass-produced keto products. You get to taste some of the unique keto-friendly snacks, which is otherwise difficult to get. The exclusive products are available at a cost-effective price tag. So, you can access some of the best products without a high-end price tag.
Each month you get new products, which you may not have encountered before. So, you can keep your diet interesting. The exclusivity of the products from https://www.ketodelivered.com/ will make you look forward to receiving the next box. The selection contains some mind-blowing items to make your dieting a unique experience. You get five to seven keto products that are ultra-low-carb foods. But, Keto Delivered does not offer any information on the net carb level of the snacks delivered. The box also contains recipes that you can try at home to make some amazing dishes using the products in the box.
Pros
Instead of getting the mass-produced keto products, you can savor the lesser-known, low-carb snacks only available in certain stores across the USA. It is hard to find such products as it is not widely available.
You can cancel the subscription anytime without facing any difficulty.
The box contains recipes to guide you in making some delicious meals at home using the items present in the box.
You have the option to purchase the box as a gift.
Cons
Unfortunately, the product does not come with carb content information.
You have no option to customize the box.
Currently, the customers outside the USA cannot access the box due to the unavailability of international shipping.
My Keto Snack Box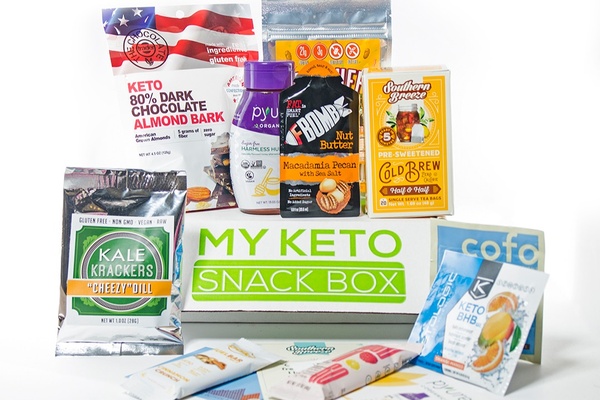 If you are looking at one of the best keto subscription boxes to aid your keto lifestyle, then you can try My Keto snack Box. It is a great option when you looking for grab-and-go snacks with the low carbs content. The box containing eight to eleven snacks are sourced from low carb brands and exclusive keto brands. It also contains some of the convention snacks with low carb content. While you a great mix of exclusive and popular products, it contains 5grams of net carb. So, click on https://www.myketosnackbox.com/ to get products ideal for the keto diet.
While you can like the box and it also makes a perfect gift for people who are on a keto diet, it is not a lifetime subscription product. With no discounts or incentives available, getting keto products is not fun. You can get most of the products that come in the box on Amazon.
Pros
All the snacks in the box have 5grams of carbs, which is perfect for people who follow a strict keto diet.
You can cancel the subscription anytime as you wish.
It provides you the option of skipping a month's subscription without canceling the entire subscription. It is helpful when you plan to go on a vacation.
You have the option of international shipping at an additional cost. Customers within the USA have a free shipping option.
It has four different box plans, which users can choose based on their requirements.
Cons
You have no option to customize the boxes.
Some items in the box are not well-liked.
Sleek Treat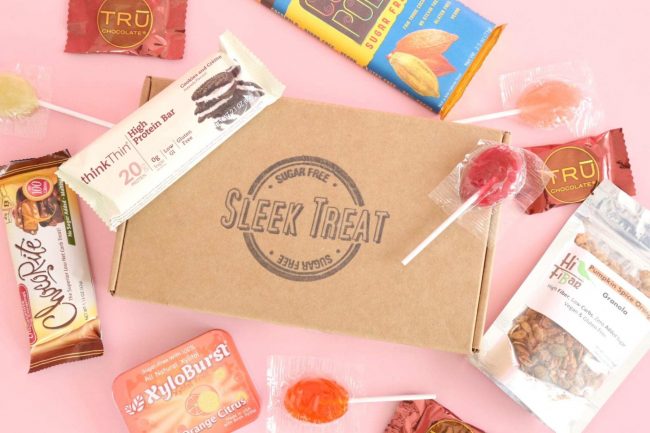 It is one of the most popular and the best keto subscription boxes for people who have a sweet tooth. You get sweet treats delivered to your doorstep. The sweet treats are keto-friendly as they replace sucralose and aspartame used in sweets in favor of natural sweet substitutes. So, you can appease your sweet cravings with the low-carb sweets. By clicking https://www.sleektreat.com/, you can choose from three different subscription tiers for three to nine gluten-free, low-carb goodies. It is a keto-friendly box with the main focus on natural and nutritious ingredients. You can subscribe to the goodies by paying $34.99 per month and above. The goodies come with a card with complete details about the nutritional information of each content of the box.
Pros
You gain access to diabetic-friendly and keto-friendly snacks each month.
Choose from the three different subscription tiers based on your requirements.
Cold shipped option available.
Cons
It is ideal only for people who like sweet snacks.
Keto Krate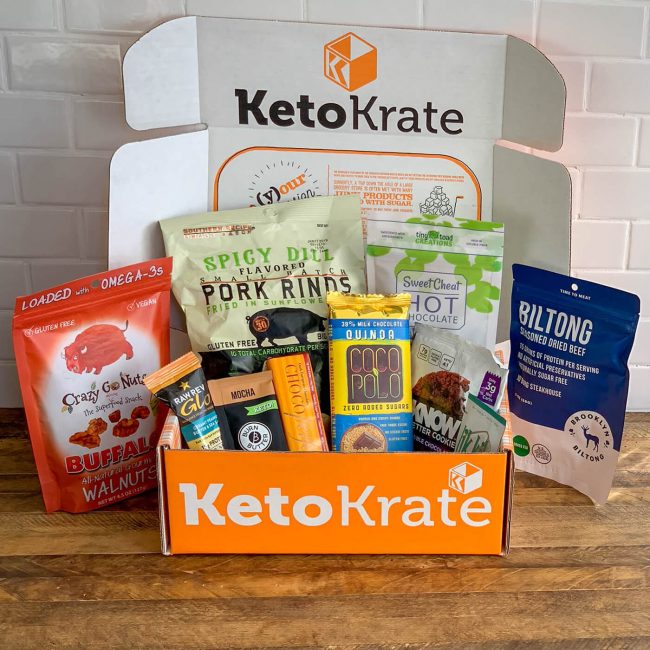 Keto Krate is the most well-known subscription box service available for dieters. It is one of the best keto subscription boxes with a lot of followers. A lot of influencers post pictures of the snacks on their social media pages. The snacks have great satisfaction with 98% of customers feeling happy with the products. It offers free shipping to customers in the USA and for people staying in Canada for an additional cost of $10.99.
You get a box with ten or more products that are hard to access at any physical store. While you can source the products on an online platform like Amazon, the cost of the product and its shipping charge can lead to high costs. You can access the box at your doorstep every month without any hassles. You can access the box as a gift from https://www.ketokrate.com/ without becoming a subscriber. So, you can purchase it as a one-time gift option. For subscribers, the keto box offers discount codes and value for money options. The box also contains an exclusive recipe and motivational success story to keep your diet on track.
Pros
It is perfect for people who follow a keto lifestyle as it is gluten-free and maltitol free. So, the low-carb snack is perfect for people following a weight-loss regime.
You can cancel at any time.
It offers an opting to change the shipment frequency or skip a month.
Exclusive access to members to the VIP Keto Store
Cons
You have no option to customize the box. So, you get products that you may not like. But, you have the option to purchase past products from the member's store of the Keto Krate platform.
Customers outside the USA or Canada cannot get the products as it has no international shipping available.
Conclusion
When you subscribe to the best keto subscription boxes, you are taking the right decision. The super-popular option of snacks can aid your weight loss journey. With snack boxes popping everywhere, you need to find the right one for getting effective results. Since availability to keto-friendly foods can become a concern, the list of choices can help you. You can choose from the best boxes with positive reviews, making it worthwhile. Tracking down the ketogenic treats by yourself can frustrate you. So, the delicious low-carb snack options that show up on your doorstep will aid in weight loss without any hassles.
View Article Sources