Achieving fit and healthy body is a dream of every women. To fulfill it your body needs essential nutrients. Protein serves the purpose. It is vital for series of metabolic and physiological processes. Protein powders are widely used for muscle repair. This makes it flourishing among women.
Proteins are building blocks of our body. They boost up the metabolic rate of body by reducing the body fat and making the muscles lean. Protein Powders produce more fat loss benefits than a reduced calorie diet. They are good option for women to enrich protein intake, toned muscle . However, it not only aids for weight loss but also serves as a healthy dietary supplement .With protein shakes you can get more nutrients into your diet.
Sources of Protein Powder
Among these sources, whey protein is the most popular choice for women. It is packed with amino acids that help you build muscle, recover faster and feel more energized.
Soy protein powder is effective for women's weight loss because of its fat-free properties. It is a good option for those who follow a vegetarian diet.
Casein is another good protein powder for women. The bio active milk peptides in it encourages muscle growth and supports immune system to help fight illness and stay healthy.
Benefits of Protein Supplements in Your Diet
Increasing protein in your diet helps you improve your fitness, lose weight and consume a healthy diet.
Aids for Weight Loss
When it comes to dieting people usually choose high carb and low protein diet. But do you know protein is the most filling nutrient.
Protein supplements can keep you fuller for longer and thereby reduce your appetite. It promotes fat burning process and increases your metabolism
Provides Toned Muscle
A common misconception among women is that increasing protein content will give them big bulky muscles.This is wrong. It helps in growth and maintenance of muscle mass which in turn gives a toned body.
Good For Muscle Recovery
Protein shakes have high level of amino acids that help repair your muscles post workout.
Best Meal Replacement
Often you miss meals thinking it would aid for weight loss. But instead it actually slows your metabolism and make you overeat. Thus, you can take protein shake as meal replacement to keep your protein content in check.
How to Pick a Good Protein Powder For Your Body
Adequate amount of protein is essential for good health. However, choosing the best protein powder is quite tricky. Nowadays markets flooded with variety of products. To opt for the right one becomes quite difficult. You can check for the one that has:
Good macro nutrient profile (high in protein and low in carbs and fats)
Less or no artificial ingredients
Good taste
Easily Soluble
Reasonable Price
Though it narrows your search but still leaves quite few options. However, the key to find the quality protein powder is to look for the one that gives protein as well as carbohydrates and fiber.
If losing weight is your aim, then look for low-sugar products with fewer carbohydrate grams per serving. In this article, we'll list out different types of protein powder that help you find the best fit for your body and needs.
Before proceeding further lets address some queries about protein powders:
Is Protein Powder Safe to Use?
Many of us are conscious about the things we consume. We just can't have anything or everything. This applies for consuming proteins too. Though the right amount helps but the overdose can create problems. Too much of protein can interfere with calcium absorption. It can also affect kidney functions causing stones in it.
Be careful, if you have any type of allergy because it has side effects too. It's better to consult with your doctor before having it.
Does Protein Powder Helps to Reduce Weight?
Right diet and workout plan both works for weight loss. There is no such specific food for losing weight. Protein powders can help you keep full for longer time. Consuming it can reduce your hunger pangs and thus aids in weight loss.
Protein powders work well when consumed along with workout because they will boost the energy level of your body. Thus, you can reduce weight as well as tone up your body.
Is Protein Powder For Women & Men Same?
Protein is essential nutrient for overall growth. Although, men and women have different bodies and dietary needs. Women use protein powder for weight loss while men take it to build their muscles. Women need such supplement that can help them shed calories. Needless to say, protein powder are more or less same for both. But you have to keep check on some ingredients.
Usually, women require less protein than men need. In addition to this, their protein formulas also contain iron and folic acid that benefit their health. One important point here is that women should stay away from such protein powders of men that have testosterone in it.
Choosing the Best Protein Powder Supplement for Women in the Market
Best protein powder for women really depends on dietary goals, budget and personal preferences.You can check out the features:
Protein with 9 amino acids.
Digests slowly
Suitable for vegans
Here are the reviews of the best five that we have found.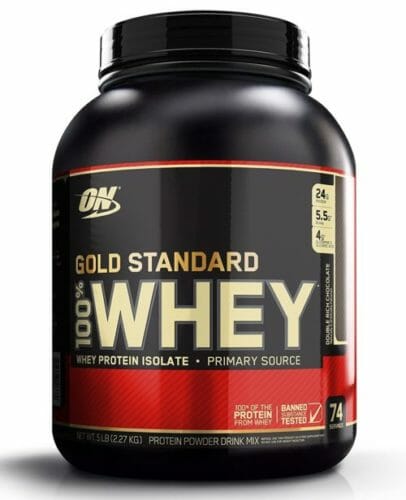 Optimum Nutrition Gold Standard is one of the top-selling protein powder. It also comes in 20 different flavors.
Introduction:
Whey is the main ingredient in Optimum Nutrition Gold Standard. It contains three different forms of whey protein: whey protein isolate, concentrate and peptides. You get 24 grams rapidly digesting whey protein from each serving with low levels of fat, cholesterol, lactose.
Post workout this powerful formula give your muscle the support they need for growth and repair muscle damage. The supplement provides the good feminine physique as it is made of whey Protein Isolate and ultra-filtered whey Protein Concentrate.
Features:
This protein powder is among the most trusted brand and ranks among the top protein supplements in market. It contains
24 grams of protein
1 gram of fat
3 grams of carbohydrates
120 calories
What are the other great features of Optimum Nutrition 100% Whey Gold Standard?
World's #1 Whey Protein
Available in 20 different flavors
Primary source is Whey protein isolates
5.5grams of naturally occurring BCAAs
4 grams of glutamine and glutamic acid
Easy to mix
Suitable for vegetarians
Positive reviews from users
Composition:
Optimum Nutrition named the product as Gold Standard because it represents the finest quality ingredients available. One serving contains :
Whey protein isolates – Purest form of protein that helps to reducing muscle breakdown while enhancing protein synthesis .
Whey protein concentrate– Good and balanced source of protein that is quickly digested and helps fuel the body during workout .
Whey peptides– Fastest absorbing form that boost your muscles to perform their best during workout.
Directions for Use:
You can mix one scoop of powder with water or other liquid of your choice.However, you can it before, during or after a workout to increase your performance.
Thus, Gold Standard 100% whey is the best protein powder for women made of high quality ingredients. This product is well reviewed and has won a number of prestigious awards.
Purchase This Product On Amazon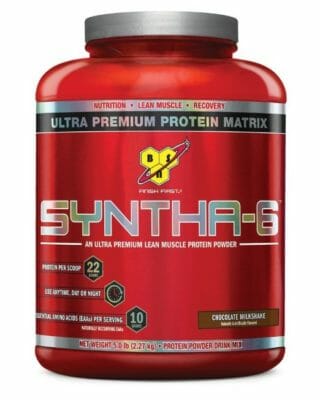 Introduction:
SYNTHA-6 is an ultra-premium protein powder that tastes good. It is highly nutritious protein supplement as along with essential amino acids and fatty acids it also contains an excellent source of fiber. All this makes it suitable for any nutrition or exercise regimen because it suits variety of active lifestyles and diet plans.
BSN Syntha 6 contains a mix of 6 different proteins and other ingredients that slow down the digestion process which in turn allows protein intake pre and post-workout.
Features:
Contains a blend of 6 different proteins
Helps build and recover muscles
Helps lose fat
Reduces hunger ,keeps you filled
Contains 22g of protein per serving
Contains 10g essential amino acids per serving
Tastes great
Good source of fiber
Composition:
One serving BSN Syntha 6 contains
Whey protein concentrate Rich in amino acids that helps stimulate muscle protein synthesis.
Whey protein isolate–Minimizes muscle breakdown and enhances protein synthesis
Calcium caseinate–Slow digesting milk-casein-derived protein helps to provide amino acids during and post workout.
Milk protein isolate– Mixture of casein and whey proteins provide balanced blend of protein types.
Egg albumen– Provides an alternative source of protein
Glutamine peptides– Helps boost energy levels and aid in recovery.
Directions for Use:
You can take 1 scoop with 4-5 fl. oz. of cold water or any beverage of your choice. If taken with non-fat milk it will increase your protein intake as well as gives you an amazing taste.
Therefore, BSN Syntha 6 is good for women. Mixture of blended proteins that helps to develop lean muscle mass and shed weight during workout.
Purchase This Product On Amazon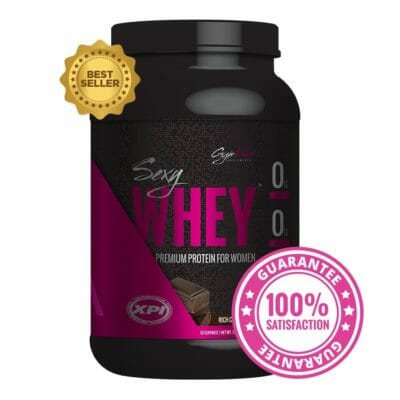 Introduction:
Gym Vixen Whey is specifically designed ultra premium protein powder for women. It contains micro nutrients that are good for an ideal healthy physique. So, if you are looking for lean muscle builder and post workout recovery supplement then this is best for you.
Features:
100% Premium Whey Protein Isolate helps build lean mass
24 Grams of Whey Protein Isolate Per Serving
Low Calorie, ZeroCarbs, Fat Free and no Sugar
Mixes Quickly
Lactose-Free which alleviates the bloating
35 Grams of BCAAs Per Serving
Packed with extra calcium and vitamin D.
Composition:
Whey Protein Isolate: Get absorbs fast and delivers much needed protein to turn muscles after a workout.
Micronutrients folic acid, calcium and vitamin: These micronutrients ensure overall health and well-being.
Sucralose, Lactase, Natural & Artificial Flavors
Directions for Use:
You can have it by mixing 1 scoop of Gym Vixen Whey with 8-12 oz of cold water. You can take it 2-3 times daily for best results.
Purchase This Product On Amazon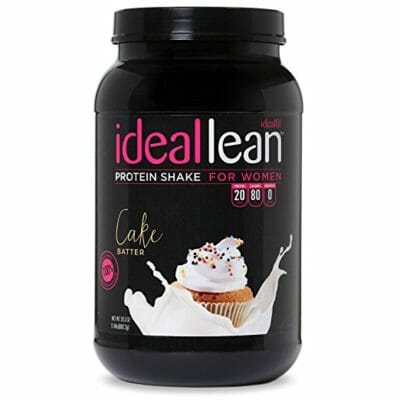 IdealLean is one of the best protein powder for women. It contains 100% Whey Protein that helps you lose weight and build lean muscle. You get all nutrients like folic acid, vitamin D, calcium that helps you to stay strong and healthy. Thus, this delicious protein shake keeps you lean without any fat, sugar, or carbs.
Features:
No fat/carbs/sugar, Fat Loss Blend that help you get lean.
Pump up your nutrition with antioxidants, vitamins and minerals.
Good taste
Has folic acid, vitamin D, calcium, nutrients
Get faster recovery from your workouts.
Composition:
Whey Protein Isolate: Provides nutrients that you need to stay strong and healthy.
Idealfit Recovery Blend: Help you get lean and recover fast so that you can keep working towards the body you want.
Natural & Artificial Flavoring, Sucralose, Sodium Chloride, Cholecalciferol Chromax
Directions For Use:
You can mix 1 scoop with 8-12 oz of cold water or your preferred beverage. You can take it 2-3 daily for good results.
Purchase This Product On Amazon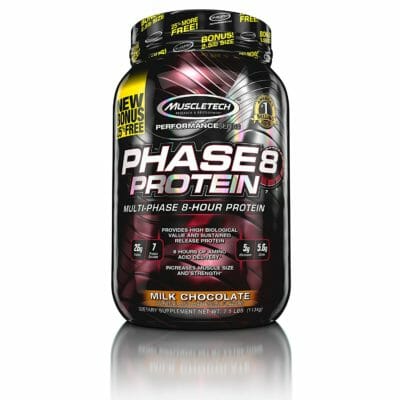 MuscleTech Phase 8 is a perfect protein powder for those looking for high biological value.You can get good amount of amino acids and BCAAs with a single scoop.It has good macronutrient profile that gives your body the fuel it needs during workout. It constitutes 97% Whey Protein Isolate, Hydrolyzed Whey Protein Isolate and concentrate, Calcium Caseinate, Milk Protein, Miceller Casein to form highly metabolic protein.
Features
Provides high biological value proteins
Provides sustained release protein
Provides a steady stream of amino acids for up to 8 hours
Increases muscle strength and encourages muscle growth
Contains 26g protein per serving
Contains 5g glutamine per serving to boost energy
Powered by 7 high quality protein sources – including 97% Whey Protein Isolate
Composition
Whey protein concentrate– Quick-digesting protein that fuels your body to maximize workout efficiency.
Whey protein isolate– Pure form of whey to enhance protein synthesis and minimizes muscle breakdown
Hydrolyzed whey protein isolate– Partially broken down whey protein that get absorbed faster by your body
97% whey protein isolate– Pure and high-protein content blend that increases protein synthesis
Milk protein concentrate–Blend of whey and casein proteins
Calcium caseinate– Protein derived from milk casein which is absorbed slowly in your body to help deliver amino acids during and post-workout
Micellar casein– High quality milk protein, rich in calcium that helps build muscle
Directions for Use:
You can mix 1 scoop with 8 oz. of cold water or skim milk in a glass or shaker cup. For best results, mix 2 servings (2 scoops) with 16 oz. of water or skim milk. You can take it between major meals and after exercise. Make sure you drink plenty of water along with its consumption. If you are looking for immediate results, then consume 4 scoops daily for a minimum of 6 weeks.
Thus, MuscleTech Phase 8 is a solid protein powder for women. It contains a balanced and effective blend of 7 different proteins.This helps deliver protein, nutrients and amino acids to your muscles maximizing muscle growth both during and after your workout.
Purchase This Product On Amazon
Conclusion:
Protein powders are tasty and good supplement for active lifestyle. Hope this article has given you some insight to make good, informed choices about what will be best for you.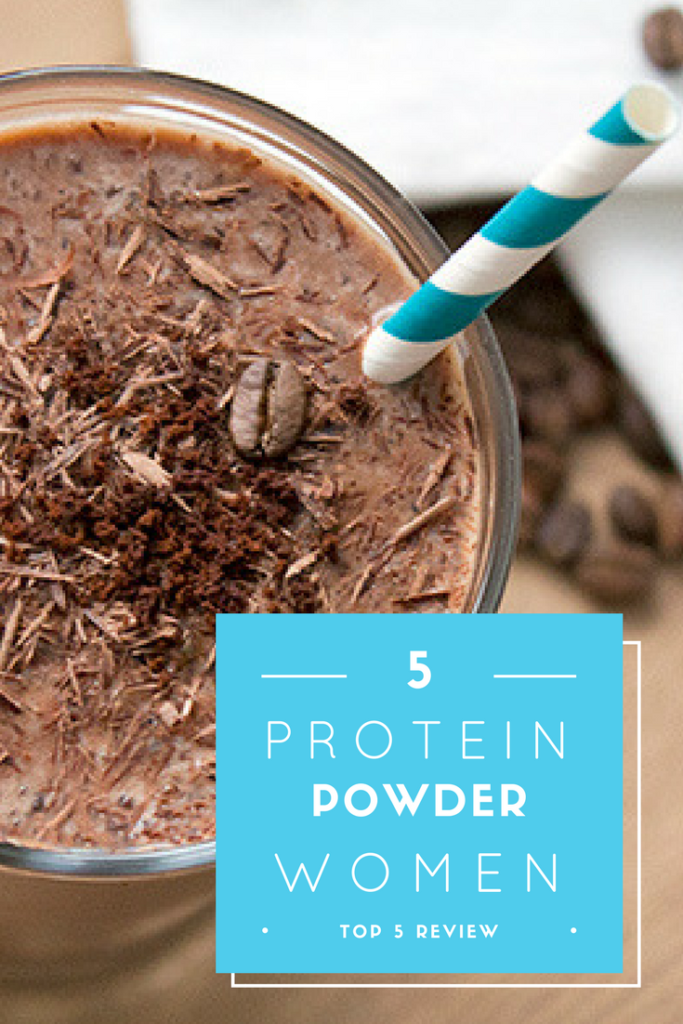 Save
Save
Save
Save