For anyone who takes heed in their appearance, the quality of your hair and skin are essential aspects, to look at your best. However, it has become apparent that many individuals have noticed that their skin and hair in particular have suffered, due to their increased intake of fatty foods and from their natural aging process. Whilst you cannot influence the aging process, these factors can ruin the natural quality of your skin and hair.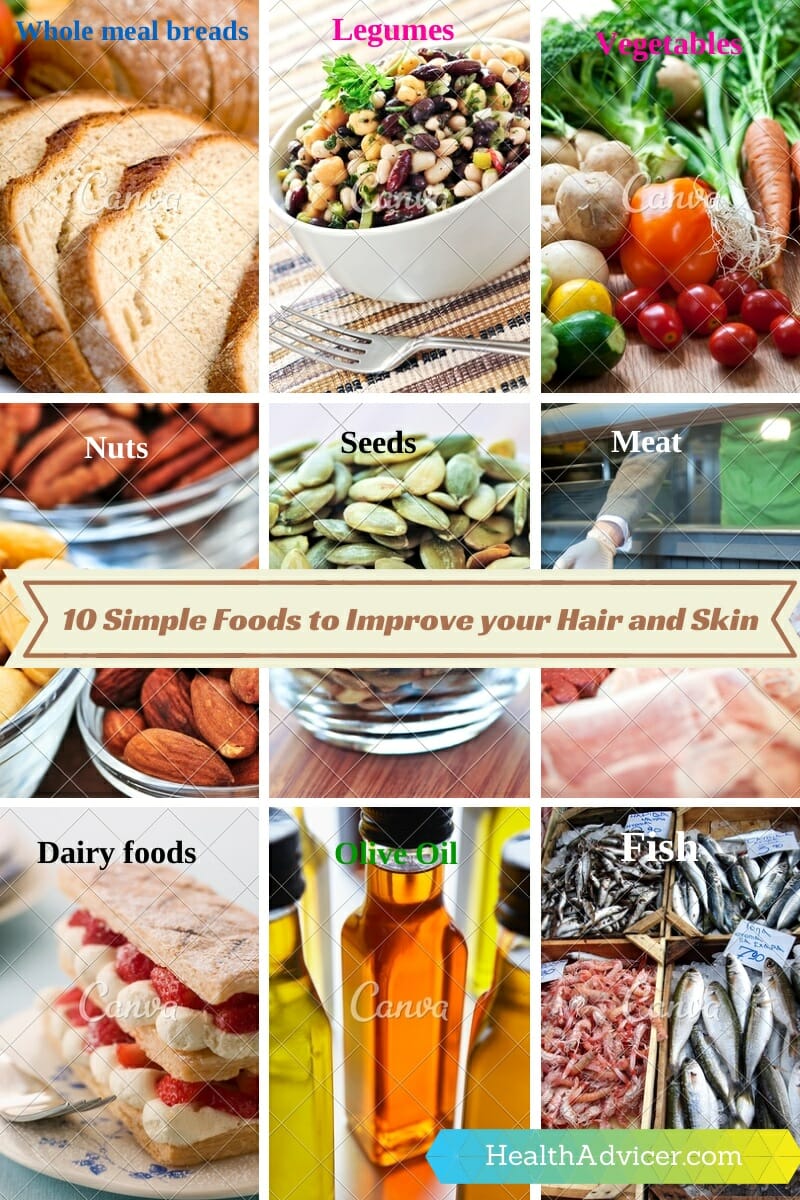 Although, to prevent any extra damage or deterioration, here are 10 simple foods that can easily improve one's skin, and certainly aid the texture and color of their hair.
Vitamin A – The vitamin A content within many fruits and vegetables is known for having a strong positive effect on one's hair. The studies taken suggest that people who consume red, yellow and orange fruits, have naturally brighter and luscious hair, so consuming more of them would certainly be a great help to your hair.
As a recommendation, I would advise that you make sure that you are eating at least 2-3 red, yellow or orange fruits every day, as well as make sure that you are consuming a large amount of high water content vegetables too.
Vitamin B – It is equally important, that you load up on the B vitamins found in brown rice, whole meal bread, fish and various fruits, as further studies have suggested that by consuming the right amount of Vitamin B in your diet, you can prevent hair loss, and be able to halt the progressing thinning of your hair.
If you are wondering how to implement Vitamin B into your current diet, you could consider simply exchanging your normal white rice with brown rice, white bread with whole meal and various meats with healthier fruit and vegetable alternatives. Although, if you do enjoy meat as a part of your diet, you should eat it in considerably smaller portions, and make sure that you are balancing it with a large variety of fruits and vegetables.
Protein – Since your hair, skin and nails for that matter are all built of proteins, it seems evident that one of the best foods to consume to improve them are foods that contain protein. Now, we all eat enough meats, eggs and other dairy-based products, but it is crucial that you understand that too much protein has a truly adverse effect on your body.
Of course, too much of anything has an adverse effect on you, even fruits and vegetables can be deadly, but especially in the case of protein, as you only need a small amount for normal usage. You may have heard about many super-athletes, who drink protein shakes and consume large amounts of meat to gain extra protein needed to build their muscles. However, if you are not consuming protein for that purpose, and you are simply trying to improve your skin and hair, then you should stick to just including one portion of meat or dairy in each of your meals.
This way, you don't go over your daily-recommended allowance, and you are also going to be aiding your weight loss regime (if you have one), as too much protein typically is turned into fat and as we all know, excess fat makes you gain weight.
Iron –Iron is another essential product of improving your hair and skin. Whilst there is a common belief that meat is the only 'natural' source of Iron, you can actually get your daily intake of iron from legumes and other vegetables.
Although, if you do enjoy eating meat, and do not wish to exclude it from your diet, then you should certainly trade out meats such as chicken, and consume more 'red meat'. The redder the meat that you are consuming, the higher iron content it contains, and therefore the more you are going to benefit.
You can also get iron from whole meal products, but for easier absorption of the iron content within it, you should consider adding some Vitamin C. (E.g. various fruits and vegetables.)
Vitamin E
The Vitamin E in whole-grain cereals, seeds, nuts, spinach and olive oil, can help protect and preserve your cell membranes. It is especially good at guarding your skin against potential damage from UV radiation. Some research suggests that vitamin E works more effectively, when combined with vitamin C, as when they are consumed together, they ensure an extra notch of anti-aging skin fortification.
Although, due to recent studies that have raised several queries regarding the overall safety and effectiveness of Vitamin E supplements, your Vitamin E intake should come strictly from your diet, and not from any supplementary pills.
Ten foods that improve your hair and skin.
From the previous points, there is enough evidence to support that the following foods can certainly help your skin and hair to shine and to become healthier. These are…
Whole meal breads
Legumes
Vegetables
Red/yellow and orange fruits
Nuts
Seeds
Various meats
Dairy foods
Olive oil
Fish
However, what needs to be remembered about all of these foods is that they can be overdone, and if they are over-consumed, they can have many serious adverse effects on your health. For this reason, you should always make sure that your diet stays within the daily-recommended allowance, and that you are constantly having a varied diet.
Of course, there are foods that can hinder the health of your skin and hair, and you should certainly stay clear of them. One of the biggest skin and hair killers are greasy and high fat content foods, such as chips, as they have very little nutritional value, and they absorb your body's energy, which is supposed to be used for cell growth and repair.
This is a guest post by David Bloom from fitness-events.com . If you want to become guest blogger at Healthadvicer.com ,please visit our guest posing guidelines at write for us.